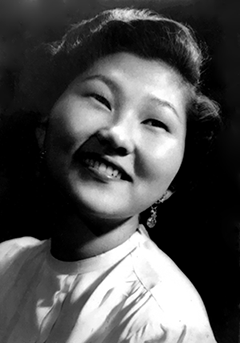 The Dorothy Bok Yuen Park-Katao­ka Col­lec­tion con­sists of a small num­ber of fam­i­ly pho­tographs col­lect­ed by Dorothy Bok Yuen Park-Katao­ka (1928–2015) of Hawai'i Island.
Dorothy Park was born on April 18, 1928, and was a 1945 grad­u­ate of Hilo High School. Her moth­er, Soon Nam Kim, ran the Iolani Hotel, a board­ing house on Kino'ole Street. Her father, Young Chai Park, was the camp luna at Kamae'e Mau­ka in Hakalau then lat­er moved with his grow­ing fam­i­ly to Nikai Camp in Kai­wi­ki and served as a work­ing fore­man for Hilo Sug­ar. He is said to have been a good friend of Syn­g­man Rhee, who came to stay at the hotel dur­ing a vis­it to Hilo.
Dorothy at first want­ed to become a doc­tor but lat­er changed her major to occu­pa­tion­al ther­a­py on the advice of her eldest broth­er. After grad­u­at­ing from the Uni­ver­si­ty of Kansas, she returned to Hilo, where she became the first reg­is­tered occu­pa­tion­al ther­a­pist to be hired by Hawai'i Coun­ty; she was assigned to Pu'umaile Hop­si­tal to assist patients recov­er­ing from tuber­cu­lo­sis.
Park-Katao­ka was lat­er assigned to Hilo Hos­pi­tal, where she became direc­tor of occu­pa­tion­al ther­a­py. Part of her time was also geared towards help­ing her patients after their release from the hos­pi­tal. She found­ed Hale­mau­mau Crafts, a lauha­la weav­ing busi­ness for her TB patients (many of whom were sin­gle Fil­ipino men) in Pana'ewa—the store­front wel­comed bus­loads of tourists while the back served as liv­ing quar­ters for these men, who had no oth­er fam­i­ly to take care of them.
After twen­ty-five years of ser­vice, she retired from Hilo Med­ical around 1978. She died June 24, 2015.
Pho­tographs from the col­lec­tion can be seen at https://cksdigital.manoa.hawaii.edu/collections/show/9