---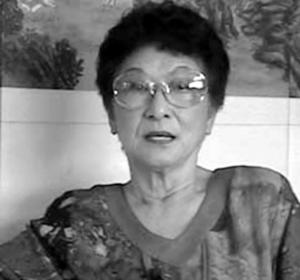 Agnes Eun Soon Rho Chun was born in Hon­olu­lu on June 9, 1925. Her par­ents, Hee Chang Rho and Young Hee Chi Rho, were from Ong Jin in Hwang­hae-do, Korea. Chun lived in the Pala­ma neigh­bor­hood with her par­ents, two broth­ers, and two sis­ters. Her moth­er worked in a can­nery and took in sewing to sup­port the fam­i­ly because her father was in poor health. He died in 1935 when Chun was a third-grad­er at Ka'i­u­lani School. Chun's old­est broth­er and sis­ter were pulled out of school to work. When she was four­teen, Chun bor­rowed the social secu­ri­ty card of an old­er girl in order to work sum­mers as a trim­mer and pack­er in the pineap­ple can­nery. She went to Kalakaua Inter­me­di­ate School, then to McKin­ley High School, but her edu­ca­tion was inter­rupt­ed by World War II.
Chun was six­teen and a high school junior on Decem­ber 7, 1941. Chun helped with wartime reg­is­tra­tion and fin­ger­print­ing. With school tem­porar­i­ly closed, Chun worked as a mes­sen­ger, and lat­er a time­keep­er, at Ford Island in 1942. Fol­low­ing what would have been her senior year, she spent a half day in school and a half day work­ing at Ford Island, which enabled her to grad­u­ate in 1944. In her career in gov­ern­ment ser­vice, Chun held var­i­ous super­vi­so­ry account­ing posi­tions, includ­ing that of comp­trol­ler in the Pacif­ic third fleet. She worked in Korea as finan­cial man­ag­er with the army before retir­ing in 1980 with thir­ty-eight years of ser­vice. She was mar­ried in 1949 to Soon Ho Chun, a teacher. She has three chil­dren. Agnes Chun was wid­owed in 1980. She died in Hon­olu­lu Novem­ber 26, 2016.
The Agnes Rho Chun col­lec­tion con­sists of two box­es of files kept by Chun. The pre­pon­der­ance of the mate­r­i­al relates to the obser­vance of the sev­en­ty-fifth anniver­sary of the begin­ning of Kore­an immi­gra­tion to Hawaii. These files include lists of res­i­dent Kore­ans and pic­ture brides com­piled in prepa­ra­tion for the obser­vance. Also present are files on the Kore­an Com­mu­ni­ty Coun­cil and the Kore­an Cham­ber of Com­merce. A few pho­tographs, sev­er­al of Syn­g­man Rhee, are also in the col­lec­tion. Some of these pho­tographs can be found on line in the Cen­ter for Kore­an Stud­ies Dig­i­tal Archive.
[Bio­graph­i­cal infor­ma­tion from An Era of Change: Oral His­to­ries of Civil­ians in World War II Hawaii. See http://hdl.handle.net/10125/29861. See also the inter­view in Seon­ju Lee and Rober­ta Chang, When the Kore­an World in Hawaii was Young, 1903–1940 (Seoul: Ewha Insti­tute for the Human­i­ties, 2013), pp. 175–185, and the record­ed inter­view in the Rober­ta Chang Col­lec­tion, video­cas­sette 18.]
[Col­lec­tion 33]